Seal and Chocolate Point Siamese Kittens
We have two kittens from Ch Billstes Maddamcin, Danny, and my stud boy Chester, Ch Karamushi Cheeky Chester. Both are boys and were born on 23/8/2013. Danni had a trouble free delivery and in the first two weeks both kittens have had wonderful weight gains. Eyes were open with a week and umbilical cords were both detached around the same time.
We have one seal point boy and one chocolate point boy. I have named them after two magicians, meet Gandalf and Merlin.
The Magicians 3 Weeks Old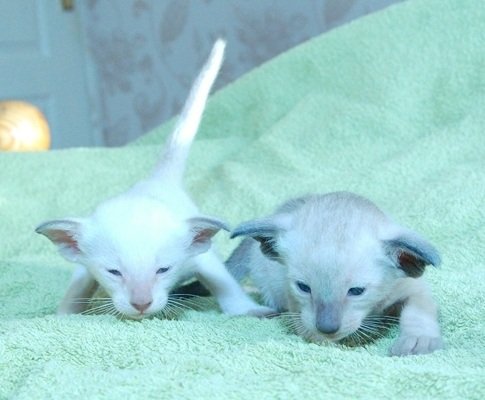 Both Merlin and Gandalf had an excellent week with wonderful weight gains. They have both just started to show some interest in their surroundings and no doubt will start exploring my bedroom in the next week. At the moment they are both confined to the safety of the nest by their mum. Danni has done an excellent job with her two sons and they both seem to be developing well.